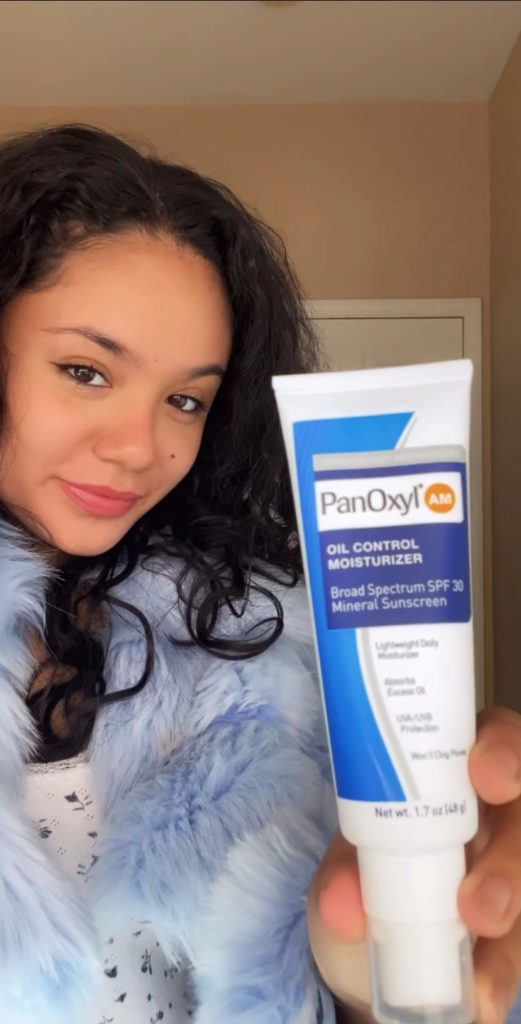 Winter is here! Is your skin ready for the cold temperatures? Imagine what dry indoor heat, freezing rain, and wind can do to your face.
Are you aware that winter's dry air and low humidity can make your skin oilier and cause breakouts? If you struggle with winter acne or oily skin, fear not! We have all the info and tips to keep your face moisturized, supple, and smooth, whether you are ice skating in the park or snuggling up with your partner next to a warm fire.
We'll also reveal a new product that will take care of your oily skin during winter.
Why is My Skin Oily in Winter?
Our skin naturally produces oil, called sebum. The sebaceous glands, which produce sebum, automatically react to the cold, dry air by increasing the secretion of oil to seal and retain moisture in the skin and protect your face. Throughout winter, heated, indoor air is dry, causing your sebum-making glands to go into overdrive, making your face oily.
What Cold Air Does to Oily Skin
In winter, your home's humidity can plummet to as low as 10%. You'll know it when you get static shocks touching doorknobs, and your hair sticks out when you take off a wool sweater.
Low humidity means your face and skin are dehydrating rapidly. The sebaceous glands are overproducing, trying to keep the moisture in your skin from evaporating.
Regardless of your skin type, cold winter winds and dry indoor air are harsh on your skin and can make it oily.
How Winter Can Affect the Skin
When you are hot, you sweat. When it's cold, windy, and dry, your skin produces protecting oil, especially in the "T-Zone." The T-zone is your forehead, nose, and chin. It's where most of the sebum glands are on your face, which secretes the most oil, making your face shiny.
The combination of dry, dead skin, too much oil, and inflammation caused by cold air can clog pores. Blocked pores can result in blackheads, whiteheads, and pimples.
Holiday Stress and How It Can Affect the Skin
Cold air isn't the only damaging element for your skin. Stress around the holidays contributes to oily skin and breakouts.
All the planning, rushing, cooking, gift wrapping, and traveling during the holidays is not only hard on you, but it's terrible for your skin.
One direct result of all that stress is the overproduction of a hormone called cortisol.
What Stress Does to Hormones and How This Affects Oil Production
Stress does not cause acne, but it is a contributing factor. Cortisol is a hormone released in response to stress. Chronic, long-term stress can lead to elevated levels in the body, worsening acne in winter.
The acne bacteria get out of control when pores become blocked with too many dead skin cells and excess oils. Your skin needs sebum to stay moisturized, but too much of it can clog the pores and create the perfect environment for acne bacteria.
Tips to Manage Stress Over the Holidays
Holidays are the time you want to look and feel good, but we often get winter acne. To reduce breakouts, reduce your stress level. Try these tips to reduce your stress this holiday season.
Enjoy the little things – they matter more than you think
Always have a plan "B" because weather, delays, or other things will happen. Changes in plans aren't always a bad thing and can result in some epic stories that are even more epic than what you had planned.
Get as much sleep as you can
Carve out some "Me-Time," especially to pamper your skin
Stick to your skincare routine
After a hectic day, always take a few minutes and perform your nightly skincare routine. Your efforts will pay off with beautiful, hydrated, and blemish-free skin.
Holiday Diets and How They Can Affect the Skin
During the holidays, it's easy to overeat all those delicious pies, puddings, and other sugary, carb-filled goodies.
Some studies show that dairy and carbs may increase blood sugar, which triggers your skin to produce more oils, causing more breakouts. Help your skin by drinking extra water and slowing down on the cookies and alcohol (or soda).
Solutions to Oily Skin
Here are the four tips you need to keep your skin beautiful and oil-free all winter long.
Moisturize your skin
Moisturizers aren't just for dry skin. Moisturizer for oily skin in winter is a necessity. The reason your skin is so oily is that it's not getting enough moisture, and it's trying to preserve what's left. The sebaceous glands are simply overproducing.
What makes the best face moisturizer for oily skin? Only use water or gel-based moisturizers containing Hyaluronic acid to seal in moisture for long-lasting hydration. Apply only light creams or lotions designed for your skin type (body or face). Look for PanOxyl's Oil Control Moisturizer that is non-comedogenic (that's a clinical term meaning it won't block your pores).
Control the oil production
Control excess oil with PanOxyl's Oil Control Moisturizer. It contains ingredients that help absorb excess oils and help prevent them from clogging pores. It is a mattifying moisturizer that looks natural and not greasy like other brands.
Wash with lukewarm water
Hot water is one of the worst things you can do to treat acne or other skin problems. It dries out your skin faster than anything. Use only lukewarm water to cleanse your face.
Reduce your topical treatments
Remember, dry skin can lead to too much oil. Topical acne treatments or an exfoliator may dry out your skin, especially in winter. Reduce the use of these products if possible. Try using them once a day or every other day if needed.
Our first reaction when dealing with oily skin is to wash it more frequently. Washing your face more than twice a day will not only dry up your skin but will strip the natural oil, making it worse.
PanOxyl Beats Oily Skin In Winter
PanOxyl offers dermatologist-recommended products clinically proven to control excess oil, prevent blemishes, and nourish your skin.
If you use an acne wash such as PanOxyl Acne Foaming Wash, try using it once a day instead of twice. Follow up with the PanOxyl's Oil Control Moisturizer for an excellent oily skin moisturizer.
PanOxyl moisturizer also contains a mineral-based broad-spectrum sunscreen. It provides vital sun protection and the moisture your skin needs to stay healthy, hydrated, and oil-free. It's time to adapt your skincare routine to take care of oily winter skin.