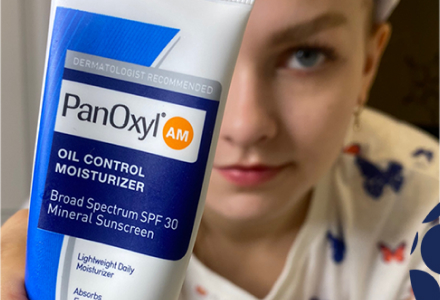 First, let's get this out of the way: sunscreen is amazing and if you want healthy-looking skin when you're older, it's a must. We promise: if an "older you" could come back in time right now and meet the "right now you", one of the things they would say is, "Hey, you're lookin' good today. BUT OMG! Wear sunscreen every day. Trust me."
But besides that, sunscreen is especially important if you have acne. The sun isn't a deadly laser, but it's close enough. UVA (aging) and UVB (burning) rays can do both short-term and long-term damage to your skin. If you have acne – there are even more concerns. Let us explain.
Why Does Acne-Prone Skin Need Sunscreen?
While sunshine is good for our bodies in some ways, too much of anything can often be a bad thing. Sunshine gives us vitamin D and helps improve our mood—all good things. But there is a dark side to UV rays and acne that can be avoided with the right sunscreen.
Sunscreen helps prevent and clear hyperpigmentation
Although your zit may be gone, there may be lingering signs that it was there. We're talking hyperpigmentation—also known as dark spots. This can often look like a purple or pink blemish. This happens because when the skin heals, the body tell it to make more melanin. This is what gives skin its color. When a dark spot appears, the body has produced too much melanin and it shows up as a different color. Dermatologists call it Post Inflammatory Hyperpigmentation or PIH.
Melanin, which pigments your skin, increases when it is exposed to sunlight—much like a freckle which is formed in the same way. Without proper sun protection, dark spots may take forever to fade.
View this post on Instagram
Some Acne Medications Can Make You More Sensitive to Sun Exposure
It may be well-known that some acne treatments can dry out your skin. That's why our PanOxyl Acne Creamy Wash and Acne Foaming Wash contain moisturizers to help combat dryness. But some acne treatments can also make your skin hypersensitive to sunlight. The medical term is photosensitivity, and it means you'll burn faster. This condition causes more inflammation and burning around the acne areas and black spots.
A quality sunscreen protects all skin types. Wearing sunscreen every day will help reduce or prevent post-inflammatory hyperpigmentation.
Are you currently using any of these? They all make wearing sunscreen every day even more important because they make your skin more vulnerable to the sun's rays.
Benzoyl Peroxide
Antibiotics
Alpha Hydroxy Acids (AHAs)
Isotretinoin
Acne Treatment Procedures (microdermabrasion, chemical peels, and some laser)
Don't stop taking your doctor-prescribed medicines because you want to go to the beach. Just protect your skin with the right sunscreen.
What Happens When You Don't Wear Sunscreen Every Day?
UV rays often have immediate effects like sunburn. Those effects may be more immediate than you think. Sunburn can occur with less than 15 minutes of UV exposure. It may not be immediately obvious as it can take skin up six hours to turn red.
There are also long-term consequences from UV rays that may be even subtler. While UVB rays can cause sunburn and skin cancer, UVA rays penetrate deep into skin and can cause aging spots and wrinkles. Constant exposure to these types of UV rays (and they're everywhere, coming through windows and car windshields) even for a short period every day can add up.
The good news: dermatologists have found an easy answer. Applying sunscreen before going outside can help keep your skin wrinkle-free years longer and help protect photosensitive skin that is treated for acne.
The Best Sunscreen While Treating Your Acne
Everyone's skin has different needs. However, there are some handy tips for choosing a sunscreen that will work well with acne-prone skin.
Acne is formed when dead skin cells and excess oils are trapped inside pores and become a breeding ground for acne-causing bacteria. You don't want any of your skincare products to add to this problem.
Look for a sunscreen with:
Mineral active sunscreen ingredients
Non-comedogenic or "won't clog pores" on the label
Minimum SPF of 30 or more
Let's break it down.
View this post on Instagram
Mineral Sunscreen
After using an acne treatment that clears your pores, you'll want products that are gentle on skin. The best sunscreens combine two naturally occurring minerals, zinc oxide and titanium dioxide.
Mineral sunscreen is gentle enough to use daily on acne-prone skin and is less likely to irritate it. This type of sunscreen forms an invisible protective layer on top of the skin that helps prevent UV rays from being absorbed by the body.
Non-comedogenic Sunscreen Won't Clog Pores
As we said before, clogged pores are the cause of most pimples. Check to make sure your sunscreen or product that has sunscreen in it is non-comedogenic. Some skincare products are full of oils and other ingredients that can add to the gunk trapped inside your pores. A product that is non-comedogenic won't clog pores.
SPF 30 and Broad Spectrum
The American Academy of Dermatology recommends a minimum of SPF 30 for sunscreen, which will block 97% of UVB rays. No sunscreen can provide 100% protection, but don't worry – both SPF 30 and SPF 50 provide great protection.
Dermatologists also suggest a broad-spectrum sunscreen that reflects away both harmful UVB and UVA rays for complete protection. UVB rays cause sunburns, while UVA rays cause premature skin aging. Some sunscreens do not provide protection from both, so make sure yours says broad spectrum protection or UVA/UVB protection.
So which sunscreen ticks all three boxes?
PanOxyl® AM Oil Control Moisturizer – the Acne Sunscreen
At PanOxyl, we make acne skincare solutions that are clinically proven and dermatologist recommended.  We made our Oil Control moisturizer with acne-prone skin in mind. This 3-in-1 product absorbs excess oils from your skin, boost skin's moisture levels and provides gentle mineral sun protection. Here are the advantages to using our Oil Control Moisturizer:
Mineral Zinc oxide and Titanium dioxide provide broad spectrum UVA/UVB sun protection
Dermatologists recommend mineral sunscreen because it is gentler on skin.
It's non-comedogenic, so it won't make acne worse by clogging pores.
Mattifies oily complexions by absorbing excess oils
How and When to Use PanOxyl® AM Oil Control Moisturizer
Yes, it's a moisturizer, oil control product, and sunscreen! The best time to apply PanOxyl® AM Oil Control Moisturizer is at least 15 minutes before you step outside. Apply it after you cleanse. It can also be used underneath makeup.
If you haven't used mineral sunscreen before, one thing you'll notice is its white appearance.
Zinc oxide and Titanium dioxide are natural white minerals. People often think they are not protected unless they see it all over their skin.
That's not true. The best way to use PanOxyl's Oil Control Moisturizer is to dab a small spot on your forehead, cheeks, nose, chin and couple of small dabs on your neck. About 1/3  to 1/2 teaspoon in total. Rub it all over your skin. The moisturizer will dry in a few moments and disappear.